The Development and Bio-applications of Multifluid Electrospinning
Download PDF
Cite This Article
Menglong Wang1
, Deng-Guang Yu1, *
, Xiaoyan Li1
, Gareth R Williams2
1
School of Materials Science & Engineering, University of Shanghai for Science and Technology, Shanghai 200093, China
2
UCL School of Pharmacy, University College London, 29‑39 Brunswick Square, London WC1N 1AX, UK
Article History
Received 28 February 2020

Accepted 19 May 2020

Available Online 8 June 2020

DOI

Keywords

Electrospinning
multifluid electrospinning
bio-applications
core–shell nanofibers
Janus nanofibers


Abstract

Electrospinning is a potent "top-down" nanofabrication method and has been explored by many researchers in recent decades because it is an efficient, versatile, simple, and low-cost route to prepare nanofibers. Nanofiber membranes generated by electrospinning have been used in various fields including tissue engineering, wound dressing, biosensing, theranostics, and functional textiles. Here we summarize the development of multifluid electrospinning processes, including coaxial, Janus and triaxial electrospinning, and the applications of these techniques. Complex nanostructures prepared by multifluid electrospinning are considered. The key parameters that affect the electrospinning process are introduced, and a discussion of both equipment and solution parameters is presented.

Copyright

© 2020 The Authors. Published by Atlantis Press SARL.

Open Access

This is an open access article distributed under the CC BY-NC 4.0 license (http://creativecommons.org/licenses/by-nc/4.0/).
1. INTRODUCTION
Along with the booming of nature science, bioscience has been explored widely and developed fast. Along with the knowledge from macro to micro, and further deeper to nano, nanotechnology has been developed fast, such as electrospinning, which uses a "top-down" way to produce nanomaterials. Nanomaterials have gradually entered the lives of people. Nanomaterials, including nanofibers and nanoparticles, have been explored in myriad fields, such as drug delivery systems [1], sewage treatment [2,3], material reinforcing [4], tissue engineering [5], catalysis [6], sensors [7,8], filtration membranes [9,10], osmosis membranes [11,12], and electrolytes [13] inter alia.
Electrospinning is a membrane preparation technology which has developed rapidly in recent decades. As the sister technology of electrospraying [14–17], takes advantage of the interactions between working fluids and electrical fields. It is a facile, efficient, economical, and flexible route to prepare nanoscale fibers via a "top-down" approach. Four key components are required to implement this process as shown in Figure 1: (1) a high (kV) voltage generator [18]; (2) an infusion pump, which can dispense solutions or melts at a precisely controlled rate; (3) a metal needle or spinneret; (4) a collector.

In electrospinning, a working fluid dispensed through the spinneret is stretched into nanoscale fibers by applying the high voltage electrostatic field (Ffield). The process can be divided into three steps as shown in Figure 1. First, the working fluid is extruded by the pump, and gathers on the tip of the spinneret. The droplet that would form in the absence of an electric field owing to surface tension is deformed into a conical shape (the Taylor cone) when a voltage is applied. This process is governed by a balance of gravity (G), electrostatic repulsion (Fer), and surface tension (Fst). Second, the jet would not be ejected with charges until the voltage exceeds a specific critical value, which means electrostatic repulsion exceeds surface tension, linear jet formed. Third, the linear jet could sustain a short time due to Rayleigh Taylor instability, and the interaction between charges along with jet and electrostatic field, therefore, whipping and swing as a consequence. Working fluid with charges in the electricity field will be elongated by electrostatic repulsion among like charges on the jet surface, Coulomb repulsion (Fcr) between layers, and gravity. Meanwhile, the solvent evaporates rapidly and cure into fibers in microscale or even nanoscale.
The development of electrospinning has taken place over a prolonged period of time, as shown in Figure 2. In the 16th century, William Gibert recorded and reported the phenomenon of electrostatic interactions with liquids. He found that when a moderate amount of charge exists on a liquid droplet's surface, it deforms into a cone and then tiny drops are ejected from the tip. The droplet disintegrates into a mist under a suitable high electricity field. In 1885, the critical amount of charge required for droplet deformation was calculated by Lord Rayleigh, who proposed the first explanation of the electrospinning process [19].

In 1902, John Cooley was granted the first patent relating to electrospinning [20]. Formhals Anton applied for another patent in 1934, and this has been commercialized [21]. In the 1960s, Geoffrey Taylor systematically investigated the process of electrospinning [22,23], but after this time the technique fell out of favor. It was not until the 1990s that the group of Reneker conducted experiments to electrospin over 20 different polymers, and as a result were able to fabricate fibers on the nanoscale [24]. With the increasing interest in nanotechnology which the world has witnessed in recent decades, since this time the, electrospinning technology has developed rapidly. Sun et al. [25] built on the standard single-fluid electrospinning process and developed core-shell fibers by processing two liquids in coaxial electrospinning in 2003. In the same year, Gupta and Wilkes [26] realized a side-by-side electrospinning approach which could also process two liquids. Building on this, Lallave et al. [27] performed triaxial electrospinning (with three fluids), and Yu et al. [28] developed new coaxial electrospinning processes permitting a wider range of fluids to be processed [28] and Zheng et al. [29] started work on near-field electrospinning. Three years later, a four fluids electrospinning process was reported [30]. In parallel to the development of the electrospinning technology, the applications of electrospinning have also advanced, such as for tissue scaffolds [31], drug delivery [1] or cancer treatment [32].
2. MULTIFLUID ELECTROSPINNING PROCESSES
Multifluid electrospinning has been explored for a number of years, and used to prepare a range of complex structures [33]. This can have a range of additional functionalities or improved performance compared to monolithic fibers from mono-axial spinning. To date, the most widely studied processes are coaxial, side-by-side (or Janus), and triaxial electrospinning.
3. BIO-APPLICATIONS
Owing to its advantages in developing nanofibers through a "one-step" process, the technology has been applied in various biological fields including drug release, tissue engineering, biosensor, wound dressing, theranostics and functional textile. Some of the functions which have been realized using electrospun fibers are depicted schematically in Figure 6.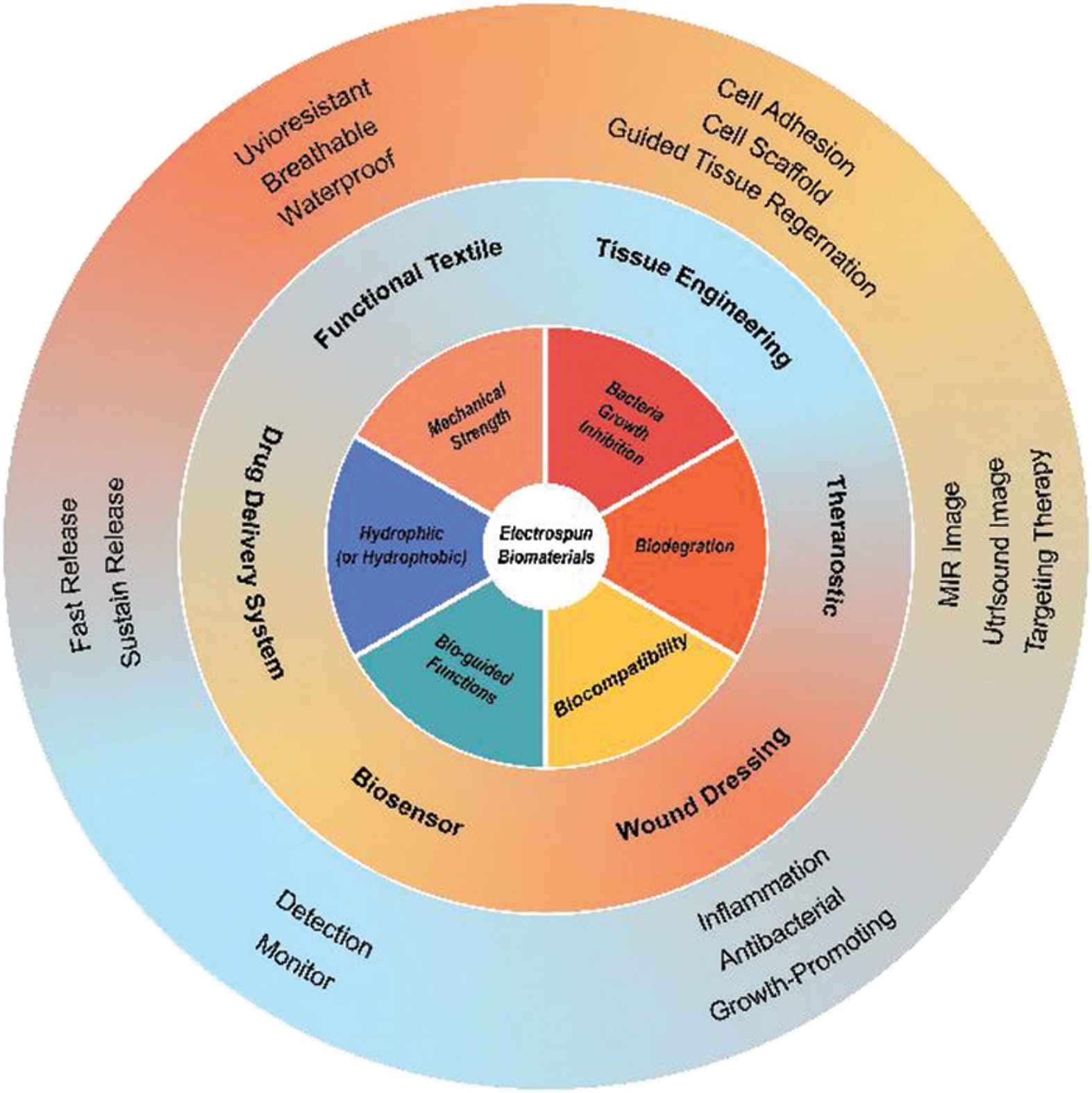 4. CONCLUSION AND PROSPECTS
As a facile, low-cost, and flexible method to produce nanofibers, electrospinning has been explored in various bio-fields and the products have been found to have very good performance in many cases. We summarize here a range of different multifluid electrospinning processes, discussing some of the key parameters which must be considered in implementing an effective and reproducible process. Biomaterials composed of nanofibers prepared by multifluid electrospinning have been introduced, and selected studies highlighted to show the enhanced properties which can be achieved compared to the monolithic fibers from single-fluid spinning. Multifluid electrospinning processes can produce materials with many functions and structures that cannot be realized when working with a single solution. Challenges, such as the difficulty in scaling up multifluid electrospinning and structural spinnerets, have also been introduced. It is clear from the limited publications about multifluid electrospinning that the electrospun complicated nanostructures always showed a better functional performance than the corresponding monolithic nanofibers [151]. The reasons are obvious that multiple-chamber nanostructures are able to provide more opportunities for tailoring the components, compositions, and ingredient spatial distributions within the nanofibers, and thus act as a more powerful platform than the traditional blending electrospinning for endowing the electrospun nano products the desired functional performances [152,153]. In the authors' view multifluid electrospinning is likely to attract increasing attention owing to the exceptional performance that can be realized.
CONFLICTS OF INTEREST
The authors declare they have no conflicts of interest.
REFERENCES
Cite This Article
ris
TY  - JOUR
AU  - Menglong Wang
AU  - Deng-Guang Yu
AU  - Xiaoyan Li
AU  - Gareth R Williams
PY  - 2020
DA  - 2020/06/08
TI  - The Development and Bio-applications of Multifluid Electrospinning
JO  - Materials Highlights
SP  - 1
EP  - 13
VL  - 1
IS  - 1-2
SN  - 2666-4933
UR  - https://doi.org/10.2991/mathi.k.200521.001
DO  - https://doi.org/10.2991/mathi.k.200521.001
ID  - Wang2020
ER  -

enw
bib