Graphic Design Expression and Intent Presentation Based on Daily Insights
Download PDF
Cite This Article
Zhijun Wang1, 2, *
1
Academy of Fine Arts, Shanxi University, Taiyuan, China
2
New Era University College, Kajang, Malaysia
Article History
Received 7 March 2022

Revised 16 March 2022

Accepted 14 October 2022

Available Online 21 November 2022

DOI

Keywords

Graphic design
Perception
Concept expression
Visual form


Abstract

Starting from the author's own creative process and feelings of works of art, this article summarizes the in-depth thinking on the development and application of poster graphic design and major of art design. The content of this article reflects the cross-penetration of culture, artistry and professional disciplines in structure as well as the multi-level, multi-perspective and diversified aesthetic thinking and creative orientation, striving to provide more meaningful materials for the sorting and accumulation of art design practice and the in-depth thinking of graphic design research and adding rich display space for the creation and research ideas of poster art design. This article is the theoretical summary and reflection on the author's graphic design practice, graphic creativity and expression processes. Through the exploration of graphic design research and graphic creative ideas, it conducts a continuous discussion on the specific thinking logic in art design creation and related theories of graphic design research.

Copyright

© 2022 The Authors. Published by Athena International Publishing B.V.

Open Access

This is an open access article distributed under the CC BY-NC 4.0 license (https://creativecommons.org/licenses/by-nc/4.0/).
1. INTRODUCTION
People live in a world of information and perception. With the development of information and technology, people can acquire new visual experience and graphical language through experience, perception, and artistic practice, and express, understand and explain the cultural form of things through visible images. The National Exhibition of Fine Arts, China is the highest-level and largest national-level art exhibition in China and is held every five years. It is the symbolic language representing the cultural and artistic achievements of China, the national brand with the longest history, with the most authoritativeness and influence, and it is of great significance to building the Chinese art value system, leading the trend of art thought, prospering art creation and shaping the national image. From December 25, 2009 to February 3, 2010, "The Eleventh National Exhibition of Fine Arts & The First Exhibition of Nominated Works for Chinese Fine Art Awards, Creative Awards" cosponsored by the Ministry of Culture, China Federation of Literary and Art Circles, and China Artists Association was held at the National Art Museum of China, involving more than 10 art categories such as Chinese painting, oil painting, printmaking, sculpture, and art design, with more than 150 gold, silver, bronze and excellence awards. In this exhibition, the poster design work "A Poster Commemorating the Nanjing Massacre" (Fig. 1) stood out from many works with its thought-provoking sense of history and shocking artistry. The number of awards in this art exhibition was reduced by two-thirds compared with previous editions, so its true value was even higher. This work not only won the Silver Award in The Eleventh National Exhibition of Fine Arts with the fifth place, but also won the Silver Award in the first "Chinese Fine Art Awards, Creative Awards", the highest award in the Chinese art circle. This is the highest award in the graphic design category that Shanxi Province won in the National Fine Arts Exhibition. The new things and new visual experiences that people perceive through images and media often lead people to discover, perceive, judge, and understand in image creation and design, supplement people's existing cognition and feelings, and bring more ideological inspiration, information cues and visual new knowledge.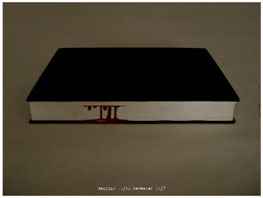 2. SEMANTIC PERCEPTION AND INTENT PRESENTATION OF GRAPHIC DESIGN
Hannah Arendt said: The things around people can present themselves through a certain form and the only purpose of art is to make this form appear. The design of "A Poster Commemorating the Nanjing Massacre" is a piece of work that the author thought about in the process of researching "the relationship between ideology and morphological expression" (Fig. 2). It inspires a symbolic meaning through the connection between things. This association can be related to life experience, or to the accumulation of knowledge, direct connection, and indirect reasoning [1]. The work was initially made as an installation with a black book and was later processed into an old photograph. On the grey background, a book with a black cover jumps into people's sight, with the spine inward and the white pages facing the viewer. The tones of black, white and grey are elegant and solemn. This book symbolizes suffering and painful memories of the entire human race during the dark war times. One page of the book is frozen, recording the disaster that the Nanjing Massacre in 1937 brought to the Chinese people and all mankind. Thick blood can be squeezed out of the book page, conveying a difficult, slow, and suffocating flow condition. This page is a page in human history that can never be erased, reminding people to learn the lessons of history, reflect on war and build peace together. History cannot be forgotten. It is like a book. Even after thousands of years of vicissitudes, there are still people who read it and think about it. History cannot be tampered with, just like the black characters on white paper. This work tells people about the hard-won establishment of new China, but also warns people to remember history and work hard at the present time of peace and development. The thinking brought by the work is long-lasting, making people fall into silent thinking and reflection on history. Many people think that this is a graphic work created by the method of association and symbol, which is suitable for the aesthetic needs of the times, conforms to the themes of the times, and can accurately convey information. Others believe that the creator seems to have experienced a long period of depression and thinking and the work benefits from a deep understanding and expression of things. The work has no redundant visual language to interfere with the picture, which can calm people down at once, and then make them fall into contemplation and linger.
The sculptor master Rodin believed that the so-called master is such a person who sees things that others have seen with his own eyes and can find beauty in things that others are familiar with. Therefore, all beauty depends on people to feel with their hearts and to experience and discover with their senses. The purpose of this is to arouse people's sensitivity to things and phenomena and to find the shining points that are in line with creativity and can stimulate inspiration from the phenomena. There are many beautiful things around you, when you lose them accidentally, you will suddenly feel the lost value. Inspiration is all around everyone, even though it is sometimes fleeting, incomprehensible and hard to capture [2]. Therefore, people should learn to capture the fleeting sparks of inspiration in a timely and accurate manner and not give up any useful and desirable shining point, even if it is just a small spark, and do not let it pass you by easily. For future artistic creation, this small spark is likely to be a spark of wisdom enough to start a prairie fire.

3. CONCEPTUAL EXPRESSION AND CREATIVE PATH IN DESIGN WORKS
The author believes that a good designer should first be a good thinker and one of the most creative results of studying art design is the ability to apply people's insights to daily life. Choice of design plays a crucial role when facing the design work. Only when people fully understand the characteristics of successful design works can they choose objects, colors and patterns in life. By understanding the elements and principles that run through a piece of work, one can sense qualities that would otherwise not be apparent. There will always be a series of problems in the design process. The raise of question makes people constantly look for newer and better ways to realize artistic expression. The world in which people live has a lot of information and materials worth paying attention to every day, to enrich people's visual creative resources and let them express the theme in their own language through reasonable channels.
Design is the creation of images and such images are used to convey clear ideas in purely visualized images [3]. Design is the presentation of a discourse, a form of discourse that vividly concretizes and reinforces the idea of the underlying nature of communication. In real life, art design will quietly appear around people all the time. It showcases a feature that is increasingly needed in people's world: Communicating information without words often doesn't require language and only relies on purely visual forms to meet people's need for speed and to transmit information beyond the boundaries of different languages and cultures. From the very beginning of creation, one should pay attention to the importance of change [4]. If one way doesn't work, people can try to sort out their various ideas, try to express them in different ways, and then explore from them, and constantly let one idea lead to another idea. This expands people's imagination and allows them to see different possibilities. The sources of inspiration for artists are endless and the materials they face can be described as dazzling. After becoming familiar with different creative approaches and principles of form, one can choose the method that is most appropriate and best expresses one's expressing intentions. People's creation is to find beauty and this kind of creation may also be out of a pursuit of integrity [5].
4. VISUAL FORM AND EXPLORATION UNDER GUIDANCE OF CONCEPTS
People form a unique impression of the beauty of things in daily life and the memory of visual images forms the connection between perception and sensory images along with people's thinking activities [6]. Graphic creativity is a reasonable form of imagination and expression of a combination of one or more elements under the domination of a specific ideology, which is full of profound philosophy and inspires people. In teaching practice and design practice, the author believes that design is definitely not only the expression of technology, but also the communication of responsibility, a professional responsibility to society and the future. The author always pays attention to innovation and function, and from the perspective of students, through ecological teaching and interdisciplinary teaching mode, he always encourages students to discover elements and find connections to solve practical problems, enhance the comprehensive expression ability of artistic creation language, and make design a complete, principled, substantial, and independent visual entity. Students express through the laws of artistic expression, promote the development of imagination in a graphic way, and achieve the purpose of expressing artistic effect of research problems. The author believes that the ability that people need to have in teaching is not only technology, but creative thinking and form breakthroughs. Under the guidance of innovative design concepts, the significance of materials for graphic expression should be studied in the spirit of experimentation and the various possibilities of design expression should be explored.
People's lives are very limited and the state of existence is also very limited. All limitations will affect the infinite magnification of people's thinking, but a lot of small ideas and thoughts can flash through people's minds in life or during the journey. And these ideas and thoughts often flash by, but when people really need them, they can be difficult to find. In order to capture the fragments in the author's thoughts in time, the author often brings a small notebook with him to record the small details of his life at any time. One can often find inspirations when he flips through the notebook later. These inspirations are precious and they are often the real source of some great ideas, which at that time may have been just a small mark. In an age where creativity is all-important, design should embody wisdom and humor. Only by transcending the general beauty of shape and color, can the design have depth and connotation to speak of. Graphic design is about tailoring the visible and invisible world into something that can be felt, understood, and appropriate through the sense and control of it. This is also an explanation to humanize its expression.
5. CONCLUSION
For decades, the obvious change in the visual expression of graphic art design is the development from traditional media to digital technology. The development trend of contemporary design art and culture that people are experiencing makes people have the conditions to use various visual languages to build a platform for design communication and dialogue through the expression of art design, mobilize all available media and means to express more dynamic and creative visual works through multimedia and cross-media means, and explore the possibilities and extensibility of visual communication and culture from different fields [7]. However, technology is always only a small part of artistic creation and the most important thing is still the wisdom of thought. It is an unfulfilled responsibility of people to use visual languages to build a platform for visual communication and dialogue through thinking, mobilize all available media and means, use multimedia and cross-media means to create more dynamic and creative visual works, and try to explore various possibilities and extensibility of visual communication and cultural expression from different fields, so that art and design themselves have more realistic and practical significance.
REFERENCES
Cite This Article
ris
TY  - CONF
AU  - Zhijun Wang
PY  - 2022
DA  - 2022/11/21
TI  - Graphic Design Expression and Intent Presentation Based on Daily Insights
BT  - Proceedings of the 8th International Conference on Arts, Design and Contemporary Education (ICADCE 2022)
PB  - Athena Publishing
SP  - 251
EP  - 254
SN  - 2949-8937
UR  - https://doi.org/10.55060/s.atssh.221107.039
DO  - https://doi.org/10.55060/s.atssh.221107.039
ID  - Wang2022
ER  -

enw
bib