Querying Automotive System Models and Safety Artifacts: Tool Support and Case Study
Download PDF
Cite This Article
Alessio Di Sandro*,

,

Sahar Kokaly
,

Rick Salay
, Marsha Chechik

Department of Computer Science, University of Toronto, 10 King's College Road, Toronto, ON M5S 3G4, Canada
Article History
Received 2 January 2020

Accepted 19 August 2020

Available Online 23 September 2020

DOI

Keywords

Megamodels
Queries
Safety cases
Automotive


Abstract

The automotive domain has recently increased its reliance on model-based software development. Automotive models are often heterogeneous, large and interconnected through traceability links. When introducing safety-related artifacts, such as Hazard Analysis, fault tree analysis (FTA), failure modes and effects analysis (FMEA) and safety cases, querying these collections of system models and safety artifacts becomes a complex activity. In this paper, we define generic requirements for querying megamodels and demonstrate how to run queries in our Model Management INTeractive (MMINT) framework using the Viatra query engine. We apply our querying approach to a vehicle's Lane Management System case study through the process of its creation and maintenance, perform a comparison with an Object Constraint Language (OCL)-based approach and show how queries can help achieve compliance with the ISO 26262 standard.

Copyright

© 2020 The Authors. Published by Atlantis Press B.V.

Open Access

This is an open access article distributed under the CC BY-NC 4.0 license (http://creativecommons.org/licenses/by-nc/4.0/).
1. INTRODUCTION
Modeling has become a standard activity in the automotive domain. Various types of models are used at different stages of the software development life cycle (requirements, design, testing, etc.), and in many cases these models are related through traceability links. With the introduction of regulatory standards, such as ISO 26262 [1], companies are beginning to focus on producing safety-related artifacts which support the argument that the system being developed is safe through the construction of a safety case. Examples of safety artifacts are hazard analysis and risk assessment (HARA), fault tree analysis (FTA), failure modes and effects analysis (FMEA), etc.
Work related to the use of modeling for safety assurance in the automotive domain has focused on modeling safety standards, processes and specific safety cases. For example, the work in Ref. [2] shows that the ISO 26262 standard for functional safety of road vehicles can be represented by a combination of structure, conceptual and process models while the work in Ref. [3] proposes a conceptual model of IEC 61508. Also, modeling notations for safety (assurance) cases have been proposed, most notably, the Goal Structured Notation (GSN) [4]. Other approaches include the Claim, Arguments and Evidence (CAE) [5] approach and OMG's Structured Assurance Case Metamodel (SACM).1 Model-based approaches for compliance have also been studied. For example, the authors of Ref. [6] propose model-based assurance for justifying automotive functional safety. The work in Ref. [7] proposes a model-driven safety certification method for process compliance. In Ref. [8], an artifact-centric compliance approach for ISO 26262 projects using model-based design is proposed. The approach is intended to streamline ISO 26262 compliance documentation for software developed using model to code generation. In Ref. [9], a model-based specification approach of safety compliance needs for critical systems is proposed by introducing a holistic generic metamodel. The metamodel abstracts concepts and criteria from different safety standards, and its application results in models for structuring and managing compliance information. In Ref. [10], the authors propose to use conceptual models in the form of metamodels to support certification data reuse and facilitate safety compliance. Finally, the work in Ref. [11] offers a modeling approach to support safety assurance in the automotive domain by proposing a rule-based approach that enables extracting a conceptual model from safety standards or project guidelines. While the abovementioned work recognize the need to use modeling artifacts to track the complexity of safety assurance in the automotive domain, there is a gap in the availability of modeling techniques and tools capable of extracting the relevant information at various stages of the automotive safety workflow.
In previous work, we have focused our research efforts on proposing model management techniques to tame the complexity caused by the many interconnected and heterogeneous models used in large-scale software development (e.g., Ref. [12]). Safety assurance in the automotive domain is a direct application of heterogeneous modeling, and asking questions about the large, interconnected and heterogeneous collections of automotive models and safety artifacts (e.g., by a system or safety engineer) becomes a complex activity where tool support is needed, both at the stage of constructing the different artifacts (e.g., the safety case goal decomposition) and afterward, in order to facilitate analysis, maintenance and evolution.
To enable querying collections of models and links between them, researchers have previously considered using query languages (e.g., Object Constraint Language [OCL] [13], Viatra [14], EOL [15]); however, it is often done in an ad hoc manner for a limited set of applications. We are aiming for a generic way of querying heterogeneous collections of models and relationships (megamodels) that can be easily applied, although not limited, to automotive safety assurance.
This paper reports on our work on building a query engine for supporting model-driven safety analysis in automotive systems, and model-driven megamodeling in general, and evaluates it on realistic examples—supporting development scenarios of the Lane Management System (LMS) and analyses required for compliance with the ISO 26262 standard. We also introduce requirements for querying megamodels, evaluate two candidate query languages, Viatra and OCL, for their suitability for this task and report on implementing such querying in Model Management INTeractive (MMINT) [16]—our tool for the construction and management of heterogeneous megamodels. The goal of the extension is to enable a safety engineer to easily receive answers to questions about automotive models and their safety artifacts.
An earlier version of this work has been reported in Ref. [17]. This paper provides a more thorough description of the work, expanding the number of considered scenarios (to include construction and change impact assessment), illustrates them through the process of deriving a safety case for the LMS, and discusses the use of queries to achieve compliance with the ISO 26262 standard.
Contributions and organization. In this paper, we make the following contributions:
We describe a derivation of an LMS safety case and illustrate the use of querying during the process, after the process, and as the system undergoes change;

We contribute a set of requirements that a query engine built on top of megamodels should implement;

We describe an approach for querying megamodels in MMINT using the Viatra query engine;

We do a comparative evaluation of the approach with respect to OCL;

We evaluate the applicability of the approach on the LMS case study;

We demonstrate the use of queries to achieve the complete compliance coverage of a fragment of the ISO 26262 standard.
The rest of this paper is structured as follows: Section 2 introduces a motivating example. Section 3 provides some required background on modeling, describes the LMS case study, derives a safety case for it and illustrates the use of querying. Section 4 describes our approach for megamodel querying and discusses the details of the Viatra integration in MMINT. Section 5 demonstrates the use of the approach on the LMS case study and compares the Viatra-based approach to the OCL-based one. Section 6 demonstrates the use of querying to achieve compliance with a fragment of the ISO 26262 standard. Section 7 discusses related work and Section 8 concludes with a summary and discussion about future work.
2. MOTIVATING EXAMPLE
Consider the automotive system in Figure 1. The figure shows a collection of system models (e.g., UML class diagrams, UML state machines, Simulink models, etc.), as well as a collection of safety-related artifacts (e.g., HARA, FTA, FMEA, Safety Case, etc.), and traceability relationships between them. In practice, such systems will contain many other system models as well as various other safety artifacts, and the complexity of these networks of models and traceability links (which we refer to as megamodels) grows as the systems become larger and more complicated. Next, we introduce six scenarios derived from some realistic activities that safety engineers may be involved in, within the automotive system in Figure 1.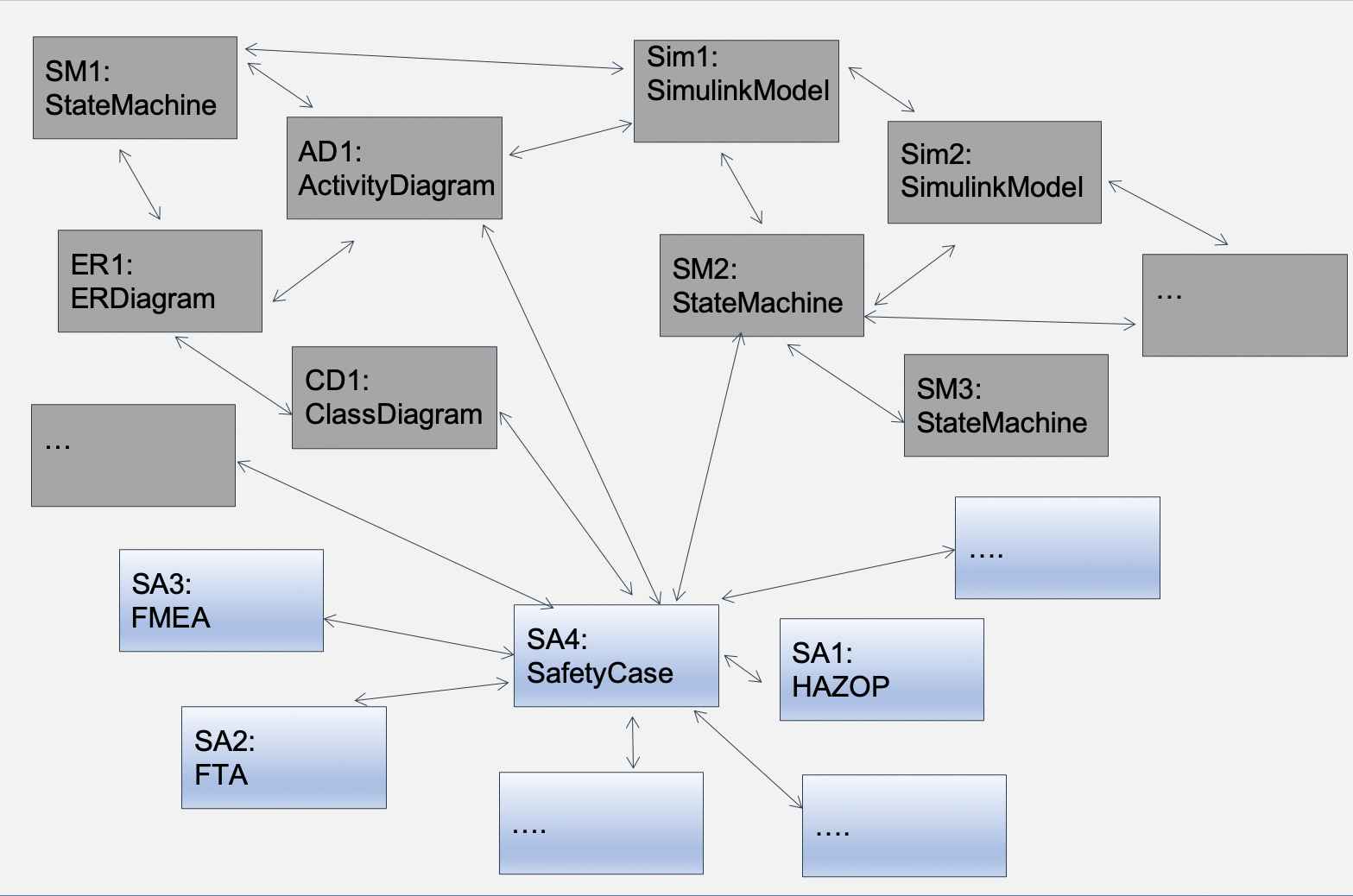 S1: Building the safety case. While constructing the safety case, a safety engineer can benefit from searching elements within the system models. Assume that she is in the process of decomposing a safety goal corresponding to an abstract component, e.g., a generic user alert. She would like to find all concrete implementations of such component to decompose the generic safety goal into multiple concrete sub-goals.
S2: Adding traceability links. During and after the construction of the safety case, it is important for a safety engineer to keep track of the system design model elements that are relevant to the safety elements. This is done via traceability links. Such links can be created via a variety of mechanisms, e.g., by name similarity. To construct these, the safety engineer may want to find system elements with names that match one or more keywords from the safety case.
S3: Safety case change. After the safety case and traceability links are created, assume that a safety engineer is planning to change a specific element of the safety case. She would like to evaluate the potential impact of such a change and find out which system elements from the various system models are directly related to the changed safety element.
S4: System model change. Changes can originate from the system engineers as well. Assume that a system engineer is planning a change to a specific element in the class diagram. Similarly to the previous scenario, she would like to evaluate the potential effects of such a change on the safety case elements, or on other system elements that are directly related to the changed system element.
S5: Identifying medium risk elements. In ISO 26262 hazards, and therefore the associated safety goals, are assigned Automotive Safety Integrity Levels (ASILs), which are a type of risk classification scheme. The ASIL is established by performing risk analysis of a potential hazard by looking at the Severity, Exposure and Controllability of the vehicle operating scenario. Assume that a safety engineer is interested in identifying all "medium risk" model elements, where "medium risk" means being connected with safety goals with, e.g., an ASIL B.
S6: Identifying highly interconnected elements. In this scenario, a system design engineer is interested in identifying all model elements that are highly interconnected within the system megamodel, where an element is considered to be "highly interconnected" if it has more than a certain number of connections to other elements in the system. This can help in understanding which elements could have more severe impact if they were to be changed.
In this paper, we show how to use querying to support such safety scenarios.
3. BACKGROUND
In this section, we present some required background on megamodels, MMINT, safety cases and ASILs.
4. QUERYING MEGAMODELS
In this section, we define a set of requirements that a query engine built on top of megamodels should implement, split into generic and implementation-specific. We then discuss and compare two query language candidates, the OCL and the Viatra Query Language (VQL). We conclude with description of our implementation.
5. QUERYING THE LMS SYSTEM
In this section, we illustrate querying in MMINT using the LMS case study (see Figure 6) and the six scenarios described in Section 2. Scenarios 1 and 2 are simple model queries that do not require any megamodel navigation. Scenarios 3 and 4 directly use queries from the MID.vql library, while Scenarios 5 and 6 require more complex queries that in turn invoke the library queries. For all scenarios, the instructions to run queries in the tool are as follows:
Open the LMS megamodel.

(optional) Open one of the LMS models and select one or more model elements if we are binding query arguments.

Use the MMINT context menu to invoke a query, selecting the query file and the query name.

View the query results.
6. USING QUERIES FOR ISO 26262 COMPLIANCE
In this section, we aim to validate the applicability of our approach by using queries to achieve a complete coverage of a fragment of the ISO 26262 standard. We choose the process detailed in Part 3 "Concept phase," Clause 7 "HARA," which is further divided into five main steps. The final step §7.4.5, titled "Verification," has the goal of verifying the correctness and completeness of the HARA from the preceding four steps. This verification step consists of a single sub-clause §7.4.5.1, quoted in the left-hand side of Figure 13.

6.1. Relevant Metamodels
In order to create meaningful queries to cover this fragment of the standard, we must first identify the relevant metamodels and the relationships between them, shown in Figure 14. Dashed areas represent separate metamodels, boxes are elements of such metamodels, and lines show metamodel relationships with their cardinality. When instantiated, e.g., one Item in a SysML model is connected to one or more Operational Situations in a HARA model. We omit the full structure of the metamodels for simplicity.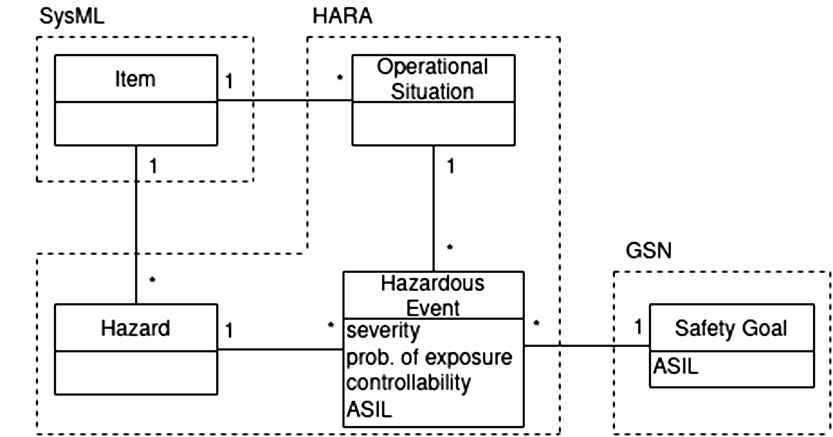 An automotive Item has a set of Operational Situations in which it is expected to function in a safe manner. The same Item, if malfunctioning, can cause Hazards. Hazardous Events are relevant combinations of Operational Situations and Hazards. Each Hazardous Event is assigned a severity, probability of exposure, controllability, and an ASIL that is calculated based on them (see Section 3.4 for a detailed explanation). A Safety Goal is determined for each Hazardous Event, with a corresponding ASIL. Multiple Hazardous Events can be covered by the same Safety Goal, which is assigned the highest of their ASILs.
6.2. Compliance Queries in Natural Language
The next step is to create natural language queries that aim to find sets of models which are not in compliance with the standard. We use our knowledge of the ISO 26262 standard, the metamodels, their structure and their relationships to interpret the text of the sub-clause §7.4.5.1 in the left-hand side of Figure 13. The resulting natural language queries are shown on the right-hand side of Figure 13 and achieve full coverage of the sub-clause §7.4.5.1.
For example, consider the text of the standard for Requirement b). In terms of the life cycle of the models, an automotive Item is first created and associated with Operational Situations where it is expected to function safely. In a subsequent phase, a hazard analysis is conducted, which identifies a set of Hazards, Hazardous Events and Operational Situations for potential malfunctions. A mistake can be made during the hazard analysis by creating an Hazardous Event for an Operational Situation where the Item is not originally supposed to operate properly (e.g., a normal vehicle is not expected to travel cross-country at a high speed). This problem can be found by the corresponding natural language Query b).
6.3. Compliance Queries in VQL
We now proceed to implement the natural language queries using VQL and show the outcome in Figure 15. We only include the rules for ASIL D in Query c) for the sake of brevity. For example, Query b) is implemented by taking a Hazardous Event, navigating to Operational Situations both through its direct link and through the indirect link crossing Hazard and Item, and checking that the Operational Situations are not the same. While creating the VQL implementation, we identified a common megamodel operation connectedEMFObjects which we packaged into a corresponding MID.vql library query—see Figure 16. This library query is used when crossing each metamodel boundary and is equivalent to the connectedModelElems query used for Scenarios 3 and 4, except that it gives access to the raw Eclipse EMF model objects.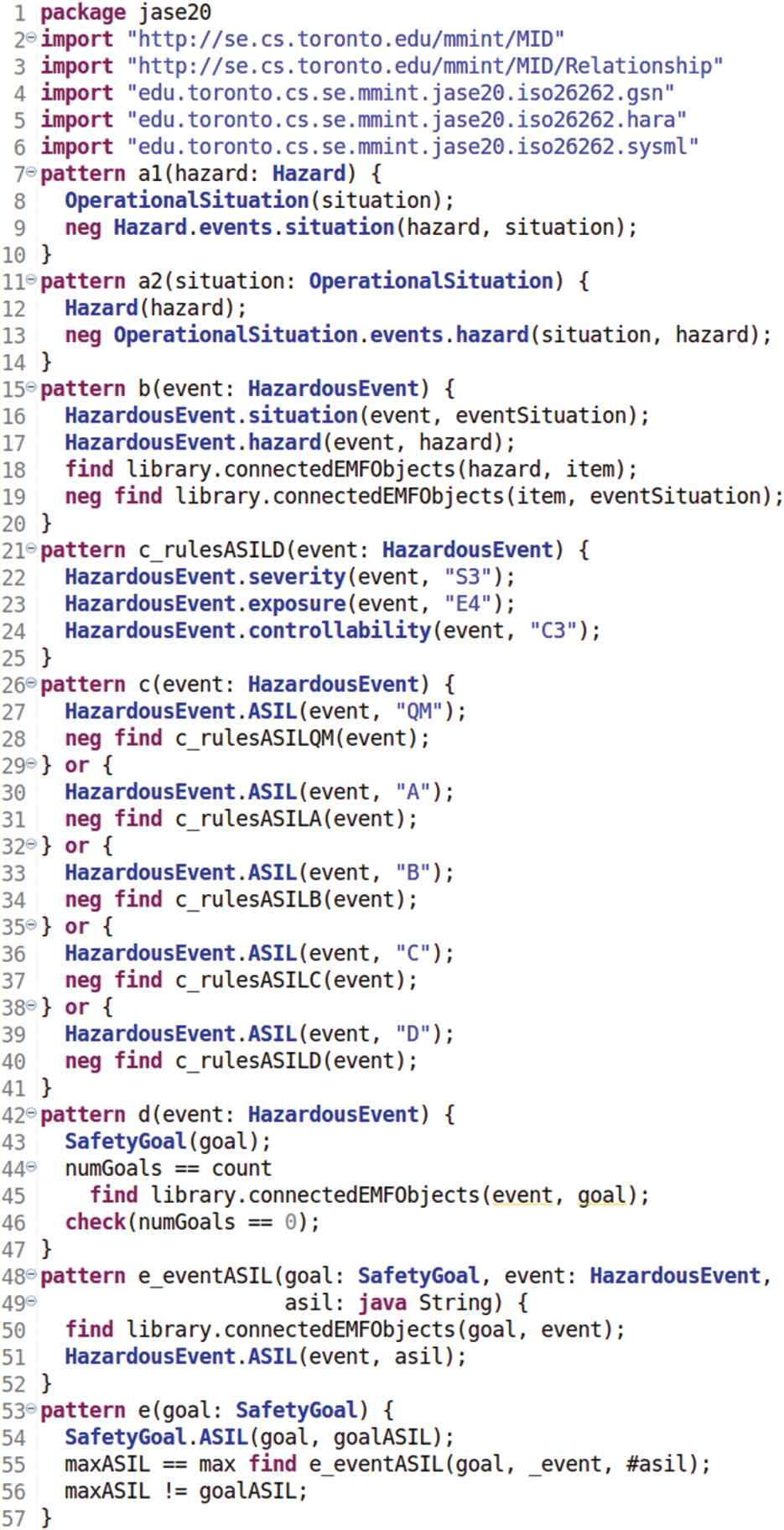 Verification is an important activity in the ISO 26262 standard, it must be carried out according to specific procedures contained in the standard itself, and must produce review reports. In this section we demonstrated an approach to derive compliance queries from the standard for the purpose of verification, first created using natural language and then implemented in VQL. The execution of the queries we defined allow the verification process to be completely automated. We believe that queries can help achieve compliance for other parts of the standard as well.
7. RELATED WORK
OCL has been formally developed and updated by the Object Management Group as a standalone standard since 2006, but has been available earlier as part of the UML specification. Given its maturity, OCL is implemented in a variety of modeling tools [13] and is the base language that other modeling languages are compared against.
The VQL was previously known as IncQuery [35] and has recently been merged into the Viatra framework [14]. The goal of the VQL project is to provide a fast engine based on the Rete algorithm [32] for incremental queries—queries that are evaluated frequently with moderate modifications in between, to either the queries or the queried models. Additionally, VQL queries have been used as a derived way to link model elements in heterogeneous models [36], as opposed to the structural nature of model relationships in our megamodels.
The Epsilon Object Language (EOL) [15] is OCL-based, but is designed to be metamodel independent. It can be used for model management activities such as model querying in order to project out information of interest to specific stakeholders (e.g., boolean queries to determine whether two or more models are mutually consistent, queries to select a subset of modeling elements satisfying a particular property, etc.). EOL satisfies the implementation-specific requirements in Section 4.1 and is a potential candidate for integration with MMINT.
The Hawk framework presented in Ref. [37] is a modular and scalable model indexing framework that enables developers to efficiently perform queries over large collections of models stored in version control systems. Thus, it is more geared towards distributed models and queries, whereas our approach is centralized.
The work in Ref. [38] extends the scope of model management beyond the boundaries of 3-level metamodeling architectures such as MOF and EMF, and presents an approach for querying large relational datasets using an imperative OCL-based transformation language (EOL). Our work currently only considers EMF-based models.
Other work has also considered querying large collections of models. For example, the work in Ref. [39] proposes an approach for efficient querying of large process model repositories, the survey in Ref. [40] considers approaches for efficiently querying large XML data repositories, and Ref. [41] considers the techniques and challenges in managing large collections of business processes. Both business processes and XML data repositories can be implemented as megamodels of the relevant model types in our tool MMINT, and can be queried using the approach we propose in this paper. The authors of Ref. [42] present MorsaQL, a querying approach especially designed and tailored for the Morsa repository, which is a model repository that uses a No-SQL database backend. In their work, they define four dimensions to evaluate query languages (effectiveness, usability, safety, efficiency) and compare MorsaQL with both OCL and IncQuery.
The ToolNet framework [43] tackles the problem of integrating models and artifacts from heterogeneous tools. It defines a tools layer with adapters to communicate with the various tools, a model abstraction layer to abstract the tool models away from their technical details, and an integration layer with virtual model views of the combined abstracted models. MMINT sits at the same level as ToolNet's integration layer, and uses Eclipse EMF as the model abstraction layer. In this paper, we assume that the models contained in our megamodels are either managed directly in Eclipse, or imported from external tools through transformations. Keeping the latter models synchronized with the external tools is outside the scope of this paper, i.e., we assume a deep model integration rather than a shallow one.
In Ref. [44], the authors highlight the benefits of using a model-based approach for constructing an assurance case. They use a weaving model (a simplified version of megamodel which focuses on relationships) to link the assurance case and the design models. They also demonstrate how to automatically generate the assurance case by instantiating specific GSN patterns and using queries on the weaving model.
Finally, the ANSYS Medini Analyze4 software implements key safety analysis methods, e.g., HAZOP, FTA, FMEA, failure modes, effects and diagnostic analysis (FMEDA), etc., in an Eclipse-based environment. It is well integrated with other engineering tools, and enables model-based safety analysis using standards like SysML. It also offers complete end-to-end traceability and supports the use of OCL, which could be used for querying the various artifacts through the traceability links.
8. CONCLUSION AND FUTURE WORK
In safety-critical domains such as automotive, models are used in different phases of software development (e.g., requirements, design, testing, etc.), both at the product and at the process level. Models are also used to capture safety-related information (e.g., (HARA, FTA, failure models and effects analysis (FMEA) and safety cases). This creates a large collection of heterogeneous interconnected models. Querying collections of heterogeneous models is a complex and expensive activity lacking proper tool support.
In this paper, we described the process of deriving a safety case using the LMS case study, and illustrated the use of querying to aid during its construction, as well as its evolution after the system undergoes changes. We then proposed a set of requirements for a megamodel querying system. We compared OCL and VQL against our query requirements, presented the implementation details for integrating VQL into our tool MMINT and showed its use on the LMS case study using six scenarios. We showed that VQL is a higher level language that is easier to use and has a faster query execution engine than OCL. Finally, we demonstrated the use of queries to check model compliance w.r.t. a fragment of the ISO 26262 standard.
Our work has a number of limitations:
Correctness and Completeness: The correctness of the presented queries can be reduced to the correctness of the underlying VQL language [14]. We do not make any claims about the completeness of the queries presented for the automotive domain or ISO 26262.

Applicability and Usefulness: We have shown the applicability of our model querying approach in the automotive domain and demonstrated its application on questions from the ISO26262 standard. We believe this is a useful activity for practitioners (particularly software safety engineers) but we have not yet conducted a usability study.
In the future, we plan to experiment with more scenarios on top of LMS to try different queries of different complexity levels. To do so, we plan to expand the LMS megamodel with more safety-related artifacts (e.g., hazard analysis, FTA, test results, etc.) and write queries on top of them. This could lead to a better evaluation of the approach, ideally with the involvement of our industrial partner.
We also plan to expand our library of megamodel queries to address more common patterns and let users concentrate on their domain of expertise.
Another focus will be on the visualization of the results of the queries. Currently, we show results textually and would like to explore graphical ways of displaying them to aid with the usability of the approach.
We would also like to capitalize on the incrementality feature of the Viatra query engine to implement live queries. A live query is a query that is always on, generating updated results each time a change is made in the megamodel. Such a tool would help support the safety engineers with their exploratory work—tweaking the system and visualizing the effects in real time.
Finally, we have explored how to build and query a fragment of ISO 26262 models. In the future, we plan to build on related work [2,3,25] by incorporating the complete models of the standard into our tool, so that queries can be constructed to ask questions that involve information from the standard (e.g., related to ASIL decomposition, types of evidence used to support ASIL levels, etc.). These type of queries can be particularly useful during the construction of a safety case.
ACKNOWLEDGMENTS
This work is funded by NSERC, OCE and General Motors. We would like to thank Gehan Selim and our collaborators at the McMaster Center for Software Certification for useful discussions.
Footnotes
REFERENCES
Cite This Article
ris
TY  - JOUR
AU  - Alessio Di Sandro
AU  - Sahar Kokaly
AU  - Rick Salay
AU  - Marsha Chechik
PY  - 2020
DA  - 2020/09/23
TI  - Querying Automotive System Models and Safety Artifacts: Tool Support and Case Study
JO  - Journal of Automotive Software Engineering
SP  - 34
EP  - 50
VL  - 1
IS  - 1
SN  - 2589-2258
UR  - https://doi.org/10.2991/jase.d.200912.001
DO  - https://doi.org/10.2991/jase.d.200912.001
ID  - DiSandro2020
ER  -

enw
bib