Microstructure and Mechanical Properties of Cu–Al Alloy Deposited by Additive Manufacturing
Download PDF
Cite This Article
Yanhu Wang1, 2
, Sergey Konovalov1, 2, *
, Xizhang Chen1, 2, *
, Yurii Ivanov3
, R. Arvind Singh1
, S. Jayalakshmi1
, Xiaoming Pan1
1
School of Mechanical and Electrical Engineering, Wenzhou University, Chashan Education Town, Wenzhou, Zhejiang 325035, China
2
Department of Metals Technology and Aviation Materials, Samara National Research University, 34, Moskovskoye Shosse, Samara 443086, Russia
3
Institute of High Current Electronics, Siberian Branch, Russian Academy of Sciences, 2/3, Akademichesky Avenue, Tomsk 634055, Russia
Sergey Konovalov
,

Xizhang Chen
Article History
Received 21 December 2020

Accepted 15 March 2021

Available Online 25 March 2021

DOI

Keywords

Copper–Aluminium–Silicon alloy
additive manufacturing
microstructure
intermetallic phase
mechanical properties


Abstract

In this work, Cu–4.9% Al alloy with little Si (the weight percentage is 1.3%) and little Mn (the weight percentage is 0.8%) was deposited by wire arc additive manufacturing. Microstructure and properties of the deposited alloy was investigated. Microstructural characterization was done using optical microscopy, scanning electron microscopy and transmission electron microscopy. Microstructural investigation revealed that aluminum was enriched at the interlayer (i.e. inside the deposited layers), whereas silicon and manganese were found enriched at the border layers (i.e. at the border of the deposited layers). Evaluation of the mechanical properties showed that the deposited sample had good strength and ductility. The addition of silicon effectively improved the hardness and tensile strength properties of the deposited alloy.

Copyright

© 2021 The Authors. Published by Atlantis Press B.V.

Open Access

This is an open access article distributed under the CC BY-NC 4.0 license (http://creativecommons.org/licenses/by-nc/4.0/).
1. INTRODUCTION
Wire Arc Additive Manufacturing (WAAM) is a new manufacturing technology with which metallic structures can be created by depositing successive layers along a pre-designed route [1–7]. It provides high deposition and material utilization rate, saves lead time and costs [8], which are advantageous in manufacturing large-scale metallic components [9–11]. Cu–Al cast alloys have poor casting properties with high tendency for linear shrinkage and are prone to hot cracking. The Cu–Al alloy made by WAAM have no thermal cracking issues [1]. In general, various reports show that alloys prepared via arc additive manufacturing process perform better than cast alloys [1–7]. Cu–Al series alloys have excellent mechanical properties, outstanding wear and corrosion resistance are being widely used in oil pipelines, shipbuilding industries and aerospace applications [12,13].
Research on Cu–Al alloy has found that Al as the solid solution element in Cu–Al can increase the formation of deformation twins and dislocation density during deformation twinning process [14]. Further, it has been found that addition of microalloying elements in Cu–Al alloy can enhance their mechanical properties significantly [3,15]. Several investigations on growth kinetics of intermetallic compounds such as, CuAl2, Cu9Al4, Cu3Al in Cu–Al cast alloys have been reported [16–19]. However, at present, no report is available on detailed microstructural analysis such as, distribution of microalloying elements and formation of intermetallic phases in Cu–Al alloy fabricated by WAAM process.
In light of the above-mentioned issues, in this work, Cu–Al alloy was deposited by dual WAAM. The aims of the work were (i) to deposit sound samples by standardizing the process parameters, (ii) to investigate the microstructure, namely, alloy element distribution and formation of intermetallic phases in interlayer (i.e. inside the deposited layers) and at border layers (i.e. at the boundaries of the deposited layers) and (iii) to identify the effect of microstructure on hardness and tensile strength properties of the Cu–Al alloy.
2. EXPERIMENTAL PROCEDURES
The deposition of Cu–Al alloy was performed by using an Advanced 4000R NC controlled CMT welding machine with a WPC-600 multi-function Argon arc welding wire feeder machine. The WAAM process setup is shown in Figure 1. SAFRA CuSi3 (FRO, Italy) wire with diameter of 1.2 mm and the pure Al wire with diameter of 1.2 mm were used to deposit Cu–4.9% Al alloy. The concentration of the elements in the deposited pool was controlled by adjusting the feed rate of pure Al wire and SAFRA-CuSi3 wire at the same time. For example, the concentration of aluminum in the deposited metal can be estimated using the formula given in Equation (1). A pure copper plate was used as the substrate with the size of 100 × 50 × 3 mm3. The chemical composition of the wires is given in Table 1.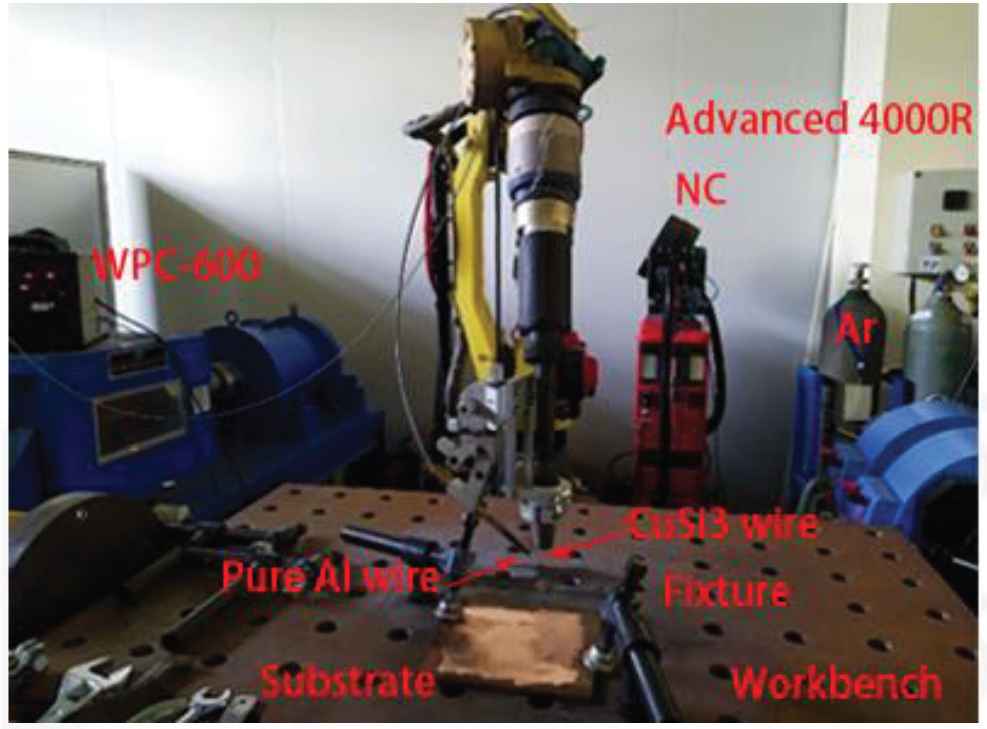 | Elements | Sn | Mn | Si | Zn | Cu |
| --- | --- | --- | --- | --- | --- |
| SAFRA CuSi3 | 0.1 | ≤1.0 | 3.0 | 0.1 | bal. |
Table 1
Composition of wires (wt. %)
After many trials, it was found that height of the deposited sample varied greatly made by one-way production. To deposit the alloy, the round-trip processing method was used instead of the one-way processing method, i.e. the CMT welding head was used in the round-trip configuration to deposit the samples. The round-trip processing method ensures that the thickness of each deposited layer is the same. In this way, it is possible to avoid different heights at different locations on the sample. Figure 2a is the deposited sample after cutting. It is evident from Figure 2a that overall height of the sample is relatively uniform. Deposition parameters are listed in Table 2. Samples were cut from the deposited alloy for microstructural analyses and mechanical properties testing, as shown in Figure 2b.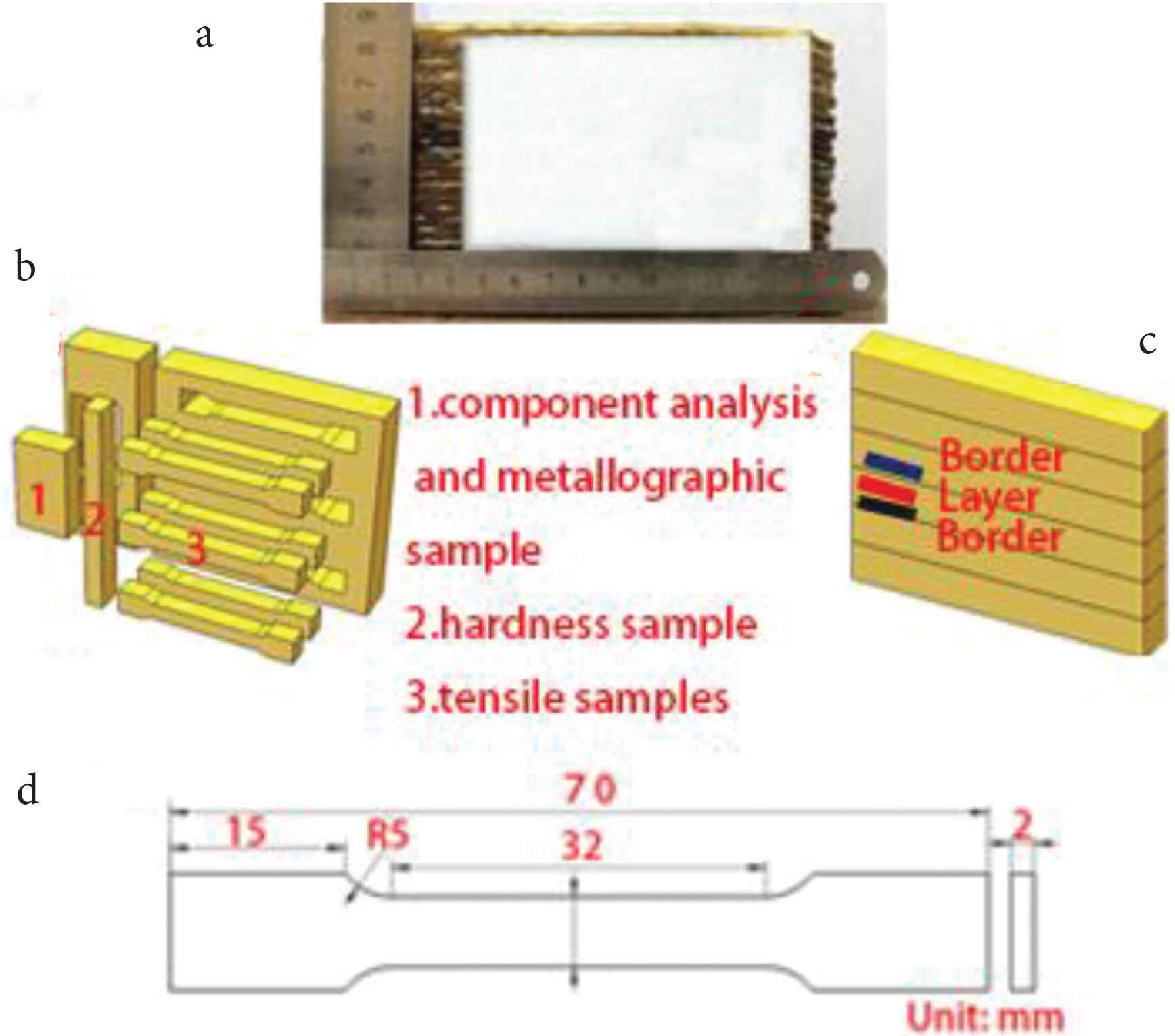 | Parameter | Value | Unit |
| --- | --- | --- |
| Deposition current | 98 | A |
| Deposition voltage | 10.4 | V |
| SAFRA CuSi3 speed | 8.5 | m/min |
| Pure Al wire speed | 1 | m/min |
| Travel speed | 0.35 | m/min |
| Pure argon | 20 | L/min |
| Dwell time between deposition layers | 30 | s |
| Angle between the torch and filler wire | 50 | ° |
| Distance between the torch and workpiece | 18 | mm |
| Pure copper plate thickness | 3 | mm |
Chemical composition analysis was performed by Energy Dispersive Spectroscopy. The microstructures of the metallographic sample were acquired using metallographic microscopes with digital camera. Metallographic samples were etched using hydrochloric acid and ferric chloride solution. The etchant comprised of 120 ml H2O + 30 ml HCl + 10 g FeCl3. Intermetallic phases were analyzed using a JEOL-2100F-Cryo-Transmission Electron Microscope (TEM). Sample for TEM study was prepared by ion (argon) etching (Ion Slicer EM-09100IS installation). Micro-hardness of the deposited alloy was measured at 1.5 mm intervals from the bottom to the top of the metallographic sample, using HXD-1000TM/LCD digital microhardness tester (Shanghai Optics Instrument, Shanghai, China) with test load 4.9N, dwell time 15 s. In the paper the term 'interlayer' refers to the region 'inside the deposited layers' and the term 'border layer' refers to the region 'at the borders of the deposited layers', as is shown in the schematic (Figure 2c). A schematic of the tensile test specimen is shown in Figure 2d.
3. RESULTS AND DISCUSSION
4. CONCLUSION
The microstructure, phase characterization, and mechanical properties of Cu–Al–Si alloy deposited by the twin wire WAAM technique was investigated in this study. The following are the conclusions drawn from the study:
(1)

The deposited Cu–Al–Si alloy showed enrichment of different constituent elements within the deposited layers and boundaries of the deposited layers. Formation of intermetallic phases, i.e. CuAl2 and Mn5Si2 second phase particles were identified.

(2)

Silicon addition improved tensile strength and yield strength also improved hardness due to due to the formation of second phase particles.
CONFLICTS OF INTEREST
The authors declare they have no conflicts of interest.
AUTHORS' CONTRIBUTION
YW is responsible for writing a draft. SK and XC are responsible for writing guidance and experimental guidance. YI is responsible for sample testing. RAS and SJ are responsible for the moisteningness and modification of the paper. XP is responsible for sample production.
ACKNOWLEDGMENTS
This work was sponsored by the National Natural Science Foundation of China under the Grant No. 51975419 and Zhejiang Provincial Natural Science Foundation of China under Grant No. LY20E050027 and Foreign Experts Bureau Project of China under Grant No. QN20200116001.
REFERENCES
Cite This Article
ris
TY  - JOUR
AU  - Yanhu Wang
AU  - Sergey Konovalov
AU  - Xizhang Chen
AU  - Yurii Ivanov
AU  - R. Arvind Singh
AU  - S. Jayalakshmi
AU  - Xiaoming Pan
PY  - 2021
DA  - 2021/03/25
TI  - Microstructure and Mechanical Properties of Cu–Al Alloy Deposited by Additive Manufacturing
JO  - Materials Highlights
SP  - 46
EP  - 51
VL  - 2
IS  - 3
SN  - 2666-4933
UR  - https://doi.org/10.2991/mathi.k.210318.001
DO  - https://doi.org/10.2991/mathi.k.210318.001
ID  - Wang2021
ER  -

enw
bib